In Memory
James Jackson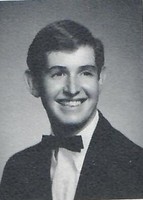 Date Deceased: July-11-2001
Age at Death: 51
Cause of Death: Vehicle accident
Classmate City: Mt.Pleasant
Classmate State: AR
Classmate Country: USA
Was a Veteran: No
Survived By: Wife-Sharon Son-Brian Daughter-Lela Son-jonathan

My wonderful husband of almost 31 yrs was a cabinet maker and owner of his own cabinet shop for 22 yrs. He was an EMT Ambulance Certified, Volunteer Firefighter, First Responder and Training Instructor for Mt Pleasant Fire Dept. He was on the City Council and on the Board of the local Boy Scout Troop 911. His most cherished job was as the associate pastor of the Guion Baptist Church in Guion, Ar. He was well respected and much loved by so many in our hometown of Mt Pleasant and the surrounding areas. He was truly a God loving, honest, caring man who lived what he believed and preached. I fell in love with him in 1968 and will love him always.